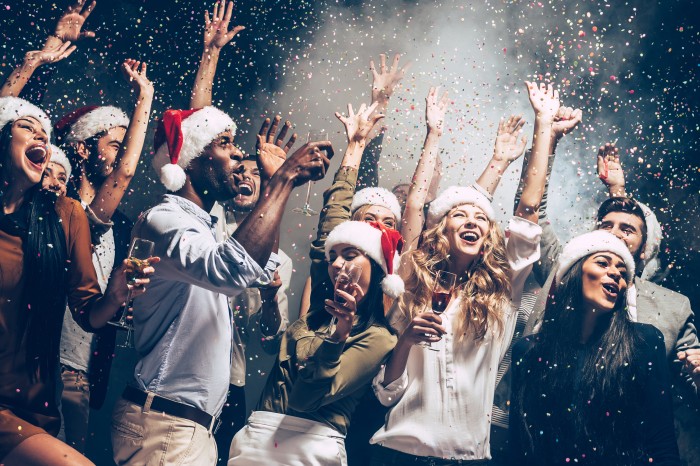 It might seem ridiculous to be posting about Christmas in mid-November but I expect you already have several festive parties, dinners and events coming up over the next few weeks. In the first of a series of three posts I help you get in the right mindset for festive foodie fun without the regrets. Festive outfits at the ready here are my five ways to avoid weight gain before Christmas day.
Be aware that drinks can easily rack up our calorie intake. If you are on soft drinks try to stick with sugar free versions or alternate sparkling water with something more exciting. If you are hosting make your own fruit infused water and add some festive flavours. Just fill a pitcher with ice-cold water and add slices of orange, fresh ginger and a cinnamon stick. Top up with some extra ice and leave it in the fridge to infuse. If you are going to drink alcohol remember that spirits and a diet mixer or a dry white wine spritzer will have far fewer calories than an alcopop, beer or large glass of wine. And whether you have alcohol or not cocktails can contain 400 calories or more and they are frighteningly easy to drink.
Don't try to "save" calories by eating very little during the day. You are likely to start attacking the high calorie nibbles like crisps and nuts as soon as you walk through the door. Have a balanced meal at home before you go out. If you are going straight from work take some healthy leftovers to eat before you head out.
At restaurants you will probably be faced with a standard Christmas menu offering few if any healthier choices. If there are several large parties in at the same time restaurants can be less willing than usual to flex what's on offer. However give them a call in advance and ask if it's possible to have sauces and dressings on the side. That way you will have a little more control.
Don't forget that restaurant portions tend to be enormous. If you have the will-power stop half way through each course, put your knife and fork down and enjoy a 5-minute chat. Then ask yourself if you really want to eat what's left especially if you still have more courses to come. If you are already starting to feel full ask the staff to take your plate away. Of course you might feel guilt about the waste especially as they will probably be playing "Do they know it's Christmas?…….Feed the world" No problem, try asking for a smaller portion at the outset. Have a look at the portion on other people's plates as you walk in and think about whether a half or a quarter might actually be enough.
Encourage your friends and colleagues to consider an activity before the Christmas party or meal. Ice-skating, bowling or one of the new "ping-pong" bars will get everyone active and burn a few calories before the meal.
Enjoy!
The post Five ways to avoid weight gain before Christmas day
appeared first on Eating Mindset
.