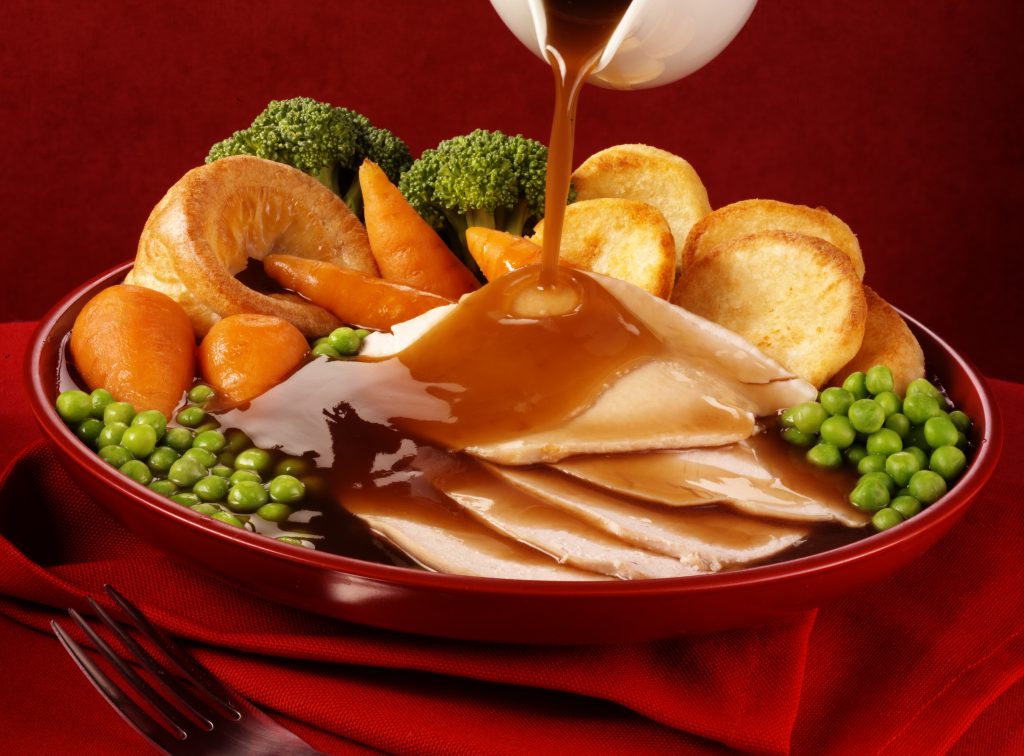 I know many people have missed sharing a traditional English Sunday roast with friends and wider family over lockdown. Now that the weather is getting warmer a fantastic Sunday lunch alfresco (even if you need a coat) is a great way to re-connect with people after the long winter months of lockdown. Here are my top tips to keep it healthy and traditional and all without compromising on the joy.
Don't start eating and drinking too early. When we are entertaining we tend to eat later and it's easy to be stuffed with nibbles and canapés before we even sit down at the table. Perhaps suggest a pre-dinner walk or game with the kids to give yourself something else to focus on. Try to stick to one pre-lunch drink – you will not enjoy the meal if you are already sloshed! Remember there are lots of low alcohol and alcohol free drinks available these days. For more information about how to drink less, I've got lots more information here
. If you don't drink alcohol remember that soft drinks can also be loaded to with sugar and calories so choose carefully. Dilute fruit juices with sparkling water, choose the sugar free versions of carbonated drinks and try some fruit infused water. Just fill a pitcher with ice-cold water and add slices of fruit and flavourings. Top up with some extra ice and leave it in the fridge to infuse. Try orange with a cinnamon stick or apple and cloves or lime and mint as a few ideas for starters.
When it comes to the main meal make sure there are plenty of vegetables on offer and that they are not all in creamy sauces or covered in butter, oil or honey. Use herbs and spices to add flavour. Try serving green beans with a few crushed nuts or carrots with fresh chopped thyme or spray some oil into a pan and cook some finely chopped ginger and garlic and add to wilted spinach. Cover half your plate with vegetables first before serving anything else. Try to have several different veggies in lots of different colours. The traditional roast in the picture above includes 3 different veggies. But you could make it even better by adding some green leafy veg like spinach, kale, cabbage, chard or spring greens. Why not give purple carrots a try or include multi-coloured peppers roasted with a few sprays of olive oil.
Keep the fat content of your roast potatoes down whilst still keeping them crispy and golden. Start by making sure you have the right sized potatoes. If you choose small ones or if you cut large potatoes up too small you will increase the surface area that absorbs the fat. The ones in the picture above are a bit small and there are too many of them for a sensible portion. Unless you're serving up food for an athlete or a teen with a growth spurt, 2 egg sized potatoes is enough. Par-boil first and then shake the pan to rough them up a bit. Put some oil in an oil mister bottle so that you can spray it on. Select oil that is high in monounsaturated fat as polyunsaturated fats produce potentially harmful chemicals when heated to high temperatures. Olive oil and rapeseed oil are good choices. Spray the oil on your potatoes. Half way through the cooking time turn them over and spray the other side.
Our photo includes some Yorkshire puddings as well. Traditionally these are an accompaniment for roast beef but I know many families serve them every week whatever meat or poultry they've selected. If it's something you love, enjoy them. They will bump up the calories in the meal a bit. Make them with skimmed milk, using a shallow muffin tin to keep the calories down below 100/pudding.
Acrylamide is a substance formed when we roast or fry starchy foods. We know that it causes cancer in animals and scientists agree that it has the potential to cause cancer in humans as well. However this has not yet been proven. As a precaution I recommend aiming for a golden yellow colour as this will reduce the amount of acrylamide produced. The potatoes in the image above are a good colour.
Consider serving some boiled potatoes with a sprinkling of mint so that you and everyone else have a lower fat option. This will also reduce exposure to acrylamide. You can always mix and match roast and boiled.
To make low-fat gravy, pour the meat juices into a jug and wait for the fat to rise to the surface. Then carefully pour or spoon off the fat before using the juices to make your gravy. Alternatively lob in a few ice cubes. The fat will collect on the cube and you can spoon them out removing the ice and the fat together.
Choose a lean cut of meat and think about the portion. 3 thin slices is enough so the chicken in the photo is too much. Chicken and turkey are great choices as they are low in fat but you don't have to stick to white meats. If you're having beef try leaner cuts like silverside or topside.  Venison is very lean, so much so that you will need to think carefully about how you cook it.  Ask your butcher for a butterflied haunch, as you will then be able to lay it flat in the roasting tray and it should cook more quickly without drying out. Marinating it first will also help keep it tender.  I love this recipe
from Homes and Gardens.
Take the skin off your poultry or if you love it take some of it off. Cut off any obvious sections of fat and focus on the lean meat.
Once it's time to eat try to slow down and savour all the flavours. Regularly put your knife and fork down and give your body a chance to tell your brain when you're full. 
Think about the sort of portion you will actually enjoy when you serve it rather than just piling your plate high. You might think the portions I've been suggesting are a bit stingy, but many of us feel really stuffed after our Sunday roast and that's not pleasant.
Let everyone know that you would like to top up your own drink. That way you can stay in charge of how much you have. If other people want to be topped up by you then that's their choice. You can still be the host with the most or the hostess with the "mostess".
The post Healthy, joyful Sunday lunch: Post lockdown tips.
appeared first on Eating Mindset
.