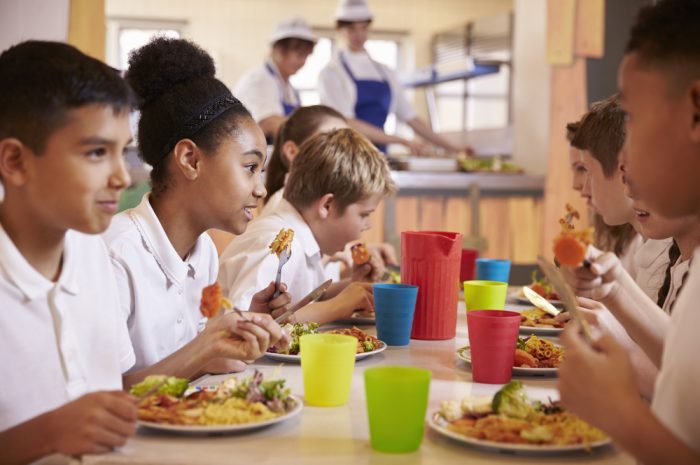 All kids are different and some will eat like a bird whilst others seem to have voracious appetites that are never satisfied. So what should you do when your child is always hungry?
If you are worried that they are putting on a bit of weight don't be afraid to address it. We need to be sensitive as no one wants to trigger poor self esteem or worse still an eating disorder. Just try talking about getting healthy rather than weight and make changes as a family.
The first thing to consider is whether they are eating a balanced diet?  Kids need to have foods from all the food groups shown in the Eat Well Guide in approximately the proportions shown here Eatwell Guide
over the course of a day. If they are only hungry for sweet and/or fatty snacks and they are not eating balanced meals then it's time to start exploring more healthy meal options to wet their appetites. There is nothing more frustrating than sourcing and cooking new recipes only to have the food declared disgusting. Try having a cooking morning with other local families. Everyone brings a healthy dish and the kids can then taste a variety of things and hopefully identify one or two new things that they like. Make sure you share information about general preferences and aversions in advance.
Beware portion distortion. We have become very used to seeing enormous restaurant and fast food portions that are too big for the average adult never mind a child. There are no hard and fast rules but there is some good practical guidance here.
If in doubt start with a smaller portion and your child can ask for more if they need it. Encourage them to wait a few minutes before serving themselves seconds to check that they are really hungry.  Talk about "sensible amounts" or "smart servings" rather than nagging them to have less or talking in terms of calorie counting.
Teach your child about hunger and how to understand it better. Check out my previous post about the different types of hunger and how to manage them.
If your child has a neuro-developmental condition such as autism or ADHD or if they have had traumatic experiences in their earlier years then they might experience the world through their senses in a very different way to you. Sometimes children in this group have a very hard time recognising when they are full and they may keep on eating because they don't notice the signals that their body is sending to their brain. (Conversely some children in this group don't notice that they are hungry) If either of these is the case for your child mindfulness can help by supporting your child to develop better awareness in the moment. One very tween/teen friendly mindfulness activity is to listen to music and really focus on the characteristics of the actual music rather than the lyrics. This sort of practice trains the brain to be more mindful and can be really helpful in supporting kids with all sorts of aspects of everyday life including eating. There are some fun Mindfulness Apps that your kids can try too eg Breahtr, Stop, Breath, Think and MindShift are a few examples. These are free to download and are designed specifically to be tween/teen friendly.
For those of you who are parenting or caring for children who came from the care system where there were issues around neglect then you may find that your child has a hard time believing that there will be enough food to meet their needs. This can lead to over-eating, stealing and hoarding food. Many children will need some form of therapy or specialist therapeutic parenting intervention. However there are a few things anyone can do to provide a good foundation for improvement over time.
Build your child's confidence that food is something that will always be available in your home. Help them to get involved with growing food, shopping and cooking. If finances are tight growing food might help offset the costs of shopping.
Make food accessible. Make a food box for each family member and let your child decorate it. Let your child know they can have everything in the box every day and that you will refill it everyday. Keep it as healthy as possible to avoid blood sugar swings but be realistic. If at all possible work with your child to select the foods. Keep your kitchen well stocked with fruit and other healthy snacks that you are prepared to make freely available for everyone in your home. Make sure your child knows that they can help themselves. Always take a little food and drink when you go out.
Give your child a sense of control by offering choice where you can. Don't offer too many options, as it might be overwhelming. Just say something like "would you like fish fingers or sausages for dinner" or "if you need a snack you could have an apple or a peach." You know your child best so simply offer options that you know your child enjoys.
I hope you found something here to help you to help your child.
If you would like further information or support please make an enquiry here. I run webinars to support parents and carers and would love you to join us.
In compliance with The General Data Protection Regulation (GDPR) I will keep your contact details for no longer than one year following our last correspondence or until you request that I delete them. i will not distribute, sell or lease personal information to third parties unless I have your permission or am required by law to do so.
For further details see my Privacy Policy.
The post What to do when your child is always hungry?
appeared first on Eating Mindset
.